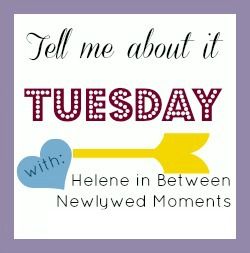 Today I'm linking up with Helene and Emily for a "tell me about it" post.
So I'm going to tell you all about my laparoscopy yesterday! Yayyy! So interesting! I know, I know.
As some of you may know I was suppose to get this procedure done a week ago but I had a little fiasco with insurance and it got put off for another week. So I went in and got all my paperwork signed, got all prepped and ready to go. My heart rate was fast (obviously, that's why I have A-Tach) and so they ordered an EKG. Then the anesthesiologist came in to chat with me and was telling me I had nice teeth and asked if I had braces before and next thing I know....BAM! The whole thing was over!
They didn't do the gas mask or anything they just slipped the anesthesia into my IV and then they took me into the operating room so I didn't even know I'd been put out, kinda bizarre. I woke up and couldn't see a thing but just realized how loud it was so I got all cranky and starting whining and crying, haha! I didn't have my contacts on so I couldn't see anything and they had put vaseline all over my eyes to keep them closed and help them from drying out. I was SO thirsty from fasting all night and day so I downed 3 cups of water and they listened to my nurse's wife yell at him on the phone for missing dinner.
They took me to a little recovery room and Tim was able to come back and hang out with me. I ate graham crackers and Sprite to my heart's content and then they gave me a cute diaper to wear (sexy I know) and wheeled me off to the car.
I haven't felt any endometriosis pain at all since the surgery which is AWESOME!! They said they were able to get a lot of it out on my left and right sides and also scrape some blood and fluids out that were trapped in there from some ruptured ovarian cysts.
Right now I'm recovering really well and my incisions are just super sore. My stomach is still really puffy from being inflated with CO2 and I'm pretty bruised. It kinda feels like I did like 3000 sit ups yesterday.
Warning: The pictures may be a little graphic. I've always been fine with bloody stuff so sorry if it's gross.
Right after surgery
Left side after surgery
Belly button after 1 day
Stomach 1 day after surgery (you can tell my stomach is still kind of full of CO2)